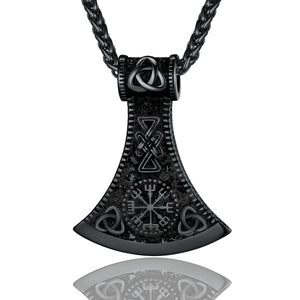 Material: 316L stainless steel, stand the test of time, water, tugging, showers, etc, can wear it everyday.
Cool Medallion: with 3mm wheat chain, size 22+2" adjustable length. It falls in a really nice spot on the chest.
Nice Solid Necklace: axe shape pendant, make man look strong and powerful.
Eye Catchin: Nice craftmanship. Enjoy the historic symbolism and enjoy wearing! Great Necklace for the Pagan in your life!
Gift Packaging: including 1 gift box+1 black pouch. For daily storage or gift.